Additional Publications
---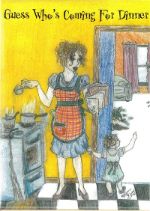 NFAPA Cookbook!
The "Guess Who's Coming For Dinner" Cookbook is a collection of recipes from foster/adoptive families, community members and state leaders. Help support NFAPA by purchasing a cookbook!  
Cookbooks are now on sale ($10.00 a book-plus postage).  Contact the office (877-257-0176) to purchase.
---
Contact NFAPA for these publications
Adoption: A Guide for Nebraska Resource Families was a collaborative effort between NFAPA and HHS and serves as a guide for potential adoptive parents interested in public adoption. The guidebook outlines laws and policies surrounding adoption, specifically those concerning subsidies, which have often been misunderstood at many levels within the system.
Resource Parent Handbook serves as a guide for all resource parents and is a useful in understanding the foster care system.
Child Abuse and Neglect Out-of-Home Setting Assessment Guide is a useful tool for resource families to understand the process in which Protection and Safety workers assess a resource family and/or home due to claims of child abuse and neglect.
Resource Parent Guide to Record Keeping is a resource developed by foster parents to help in gathering, documenting and sharing information that is crucial in organizing important information for each individual child living in foster care.  Cost for this book is $5.
---
Building Bridges:  Many families have siblings that have a brother or sister receiving residential interventions.  Please look over the "Tip Sheet" provided by Building Bridges Initiative to see some common issues siblings experience and help family members. 
The Building Bridges Initiative is pleased to share a new document on sibling support: Supporting Siblings When a Brother or Sister is Receiving Residential Interventions:  Key Issues and Tips for Providers and Families. To download the document, please go to the following link: http://www.buildingbridges4youth.org/sites/default/files/BBI%20Sibling%20Tip%20Sheet.pdf
---
Kinship Care
With 7.1 million grandchildren living with their grandparents and 4.7 million children living with "other relatives," according to the 2010 census, almost 12 million children in America today are being raised in kinship care. Of course, this group of kinship providers comes with unique needs and challenges that are often difficult to address. The outcome for millions of children depend on the resources and support these families can access.
The Kinship Parent Toolbox is a 356 page book helps build resources for these families, in the hopes that children's lives will be profoundly, positively impacted. Containing articles from more than 70 contributors touched in a variety of ways by kinship care including – grandparents raising grandchildren, children raised by other relatives or family friends, social workers, therapists, kinship support organizations, and others, this book is a much needed resource for those working with and parenting their relative's children.
If you work with kinship caregivers, this is a resource you need to have available to support the families who are stepping up to the plate to care for relative's children. Emotionally draining with situations that are difficult for families to navigate, they have unique needs that need to be supported and acknowledged. This is a tool that can help.
Click here for a complete table of contents to get an idea of what the book includes.