Nebraska Friends of Foster Children Grants
Today you are taken to a new neighborhood to live with a new family – with parents, brothers and sisters you have never met.
Now, imagine your only possessions are the clothes on your back and what has been stuffed into the paper bag you are carrying.
Children in Foster Care in Nebraska face this situation often - sometimes several times a year. It can be frightening for a child of any age. Nebraska Friends of Foster Children helps children in foster care get through the days ahead with hope.
Please visti their website for more information: www.ne-friends.org
---
FOSTER CARE TRANSITION TOOLKIT
The passage to adulthood is challenging for anyone, but for youth in foster care, it can be especially lonesome, confusing, and uncertain. The Department of Education released a toolkit to help youth in our nation's foster care system and those who work to support them.
CLICK HERE FOR A LINK TO THE TOOLKIT
---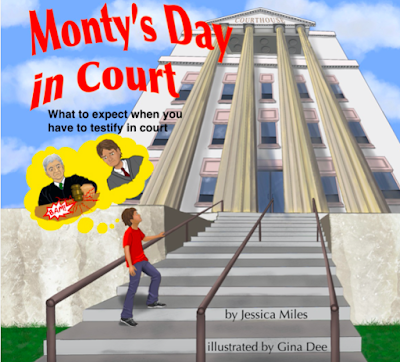 Children's Book Supports Young People Facing Abuser in Court
"Monty's Day in Court" is the First Children's Book Written from the Perspective of a Child Who Testifies in Court Against his Abuser
SAN DIEGO (July 08, 2020) - "Monty's Day in Court" shows young people they have the power to bring about change for themselves and others. Monty's story serves as a tool for children in learning resilience and as an aid for those on the front lines helping young people through challenging times.
The book follows 10-year-old Monty's journey as he learns it is ok to be upset about his experiences and works through his feelings with his therapist. After he is subpoenaed to testify, caring adults help him understand what will happen in court and the support he will have throughout the process.
According to the Centers for Disease Control and Prevention, Adverse Childhood Experiences, or ACEs, are costly. They include experiences such as abuse or growing up while a parent is incarcerated. The economic and social costs to families, communities and society totals hundreds of billions of dollars each year. For children, ACEs can have life-long consequences. Interventions and professional support go a long way in addressing ACEs, providing both short and long-term safety nets for vulnerable children.
"Monty's Day in Court" assists therapists, court programs, social workers, teachers, law enforcement, attorneys and parents in helping children better understand the process of testifying in court and reduce the traumatic impact of the experience.
Author Jessica Miles is a former foster parent who writes about her family's experiences. Illustrator Gina Dee is a foster parent and has written books about trauma and foster care.
"Monty's Day in Court: What To Expect When You Have To Testify In Court" is appropriate for children age 5 and up. Independently published and available through Amazon ISBN-13: 979-8618619783. Proceeds from this publication will be donated to Bikers Against Child Abuse. Spanish language version coming soon.
---
NATIONAL RESOURCES FOR FAMILIES
Family tools for nurturing children's social-emotional development.
(Available in English and Spanish) Visit this landing page at the Center on the Social and Emotional Foundation of Early Learning (CSEFEL) and the door of resources for families opens wide! From "Teaching Your Child To: Identify and Express Emotions" to "Tips on Nurturing your Child's Social Emotional Development", these tip sheets are short, family-friendly, and backed by research. Several tip sheets are also available in Spanish. 
Podcast | Early experiences count: How emotional development unfolds starting at birth. 
In this podcast, Dr. Ross Thompson describes how early emotional development unfolds and what parents can do to nurture strong, positive social and emotional skills starting at birth.
---
Check out Expertise.com's kids safety guide, which includes chapters on common household hazards for children of all ages, tv and internet safety for kids, firearm and gun safety for kids, and home childproofing tips.
---
The North American Council on Adoptable Children (NACAC) promotes and supports permanent families for children and youth in the U.S. and Canada who have been in care—especially those in foster care and those with special needs. http://www.nacac.org/
---
The Central Plains Center for Service provides a variety of opportunities for positive change to individuals, families, and communities throughout the entire state. The following programs are currently being offered. Parents as Teachers Program, The PALS (Preparation for Adult Living Services) program & Education and Training Vouchers. See their website for additional information at http://www.central-plains.org
---
The Child Welfare League of America is an association of almost 1,200 public and private nonprofit agencies that assist over 3.5 million abused and neglected children and their families each year with a wide range of services. http://www.cwla.org
---
The National Foster Parent Association is the only national organization which strives to support foster parents, and remains a consistently strong voice on behalf of all children. http://www.nfpainc.org
---
May is National Foster Care Month for more information on what's happening around the country for National Foster Care Month go to http://www.fostercaremonth.org
---
For information about the Nebraska Department of Health & Human Services website. http://dhhs.ne.gov/children_family_services/Pages/children_family_services.aspx
---
If you are interested in reviewing information relating to foster care and adoption in Nebraska, go to http://dhhs.ne.gov/Pages/reg_t390.aspx for Nebraska regulations.